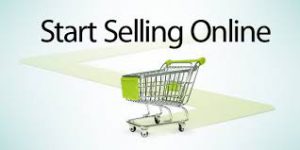 I know you must have heard about some online gurus making a lot of money from home, doing what they know how to do best. Some people believed that it is hard for an everyday people to make a good income online, but I am here to tell you that it is possible for anybody regardless of education, experience, or background to make a good income online.
Making good income online is not that hard especially if you're going to be selling products, there are some steps you must take before you start selling any products, and also you have different choices to make concerning where and how to sell your products.
3 Important Steps Before Selling Online 
 Choose a niche: A niche is a particular product that you want to sell, you must do a thorough market research to know which product you want to sell. Some products niches are too broad you don't want to choose from such niche, you must break a broad niche down and find the one product that is right for you, at least one product for a start. Also, as a starter, I will suggest you should not go for products that are "hot sellers," for examples like electronics, computers, DVD, designer clothes, gaming systems, etc. Those products are very difficult to sell because of the competitions, and as a starter, it will be difficult to compete with the big sharks. Look for products that are not so hot, lesser known products that have minimal competition, and with that, you will be able to make good money out of it.
Market Research: After you must have chosen the right niche market research is a must, do a thorough market research to see if people are actually looking for that product. Competition is good for any business, if you realized that a product does not have competition please don't go for it. When there are competitions for a particular product it shows that people are looking for that product. Too much competition shows that it might be difficult to compete with the big stores or companies, that is why you have to look for products that the competition is minimal. You can do your market research HERE
Real Dropshipper: There are many people online that claim that they are a real drop shipping companies, you have to be careful with who you work with. After you must have finished with the market research then look for a reputable drop shipping company that carries your product. Like I said earlier, there are many drop shipping companies out there that will work with home base businesses, and one of them is Worldwide Brands, I have been using this company for a while now I know they are for real. You can learn more about this company HERE
At this point, you have to determine whether you want to sell your products with a website, without a website, or both. The platform to which you sell your products is important, depending on how much you have in your pocket. I'm going to explain how you can sell your products with a website and without a website.
      How to Sell Products With a Website
You can sell your products by uploading pictures of what you want to sell on your own website, and determine how much you want to sell them. Building a website is not as hard as it used to be, gone are the days where you spend so much money on building a website, to build one you must have known about all the computer kinds of stuff.
Do you know that you can build your own website under 5 minutes, and you don't have to know all the computer language to build one, you have the option to get your own website, you can choose to have your own website for only $15 or you can choose to get one for free, the choice is yours.
You can learn how to build your website from HERE
Joining the program is free, there is no obligation to upgrade and you will learn all you need to succeed online.
   How to Sell Products Without a Website
Do you know you can sell products without a website, I believe it's not everybody that want's to go through the hard work of having a website, promoting it, and the rest. If you fall into that categories then you don't have to do it. There are several places you can sell your products without having a website:
Ebay
Amazon
Esty
Many more…
There are many online platform where you can sell your products, and you are set to start making money online.
Good luck in your selling, please leave your comments or questions below I will be glad to answer them.